Above: This photo was taken from Interstate Highway #15, about 20 miles southwest of Great Falls (between Cascade and Ulm). Crown Butte (left) and Square Butte (right) are two of the many exposed laccoliths located in the Great Falls area of central Montana. Square Butte, which can be seen for many miles, was a favorite of Charlie Russell (Montana's most famous artist). Russell (1846-1926) included it in several of his paintings. A likeness of Square Butte was also featured on the Montana license plates issued in the 1990s.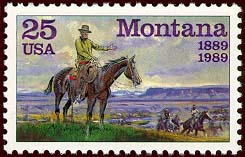 Oddly there is another prominent butte named "Square Butte", located 40 miles east of Great Falls near Geraldine. The one in the photo above was called "Fort Mountain" by the Lewis and Clark Expedition.

Right: To commemorate Montana's Centennial, this Charlie Russell painting was featured on a postage stamp. It shows Charlie with the Sun River and his favorite laccolith (Square Butte) in the background. Crown Butte would be to the right of the area shown on the painting.