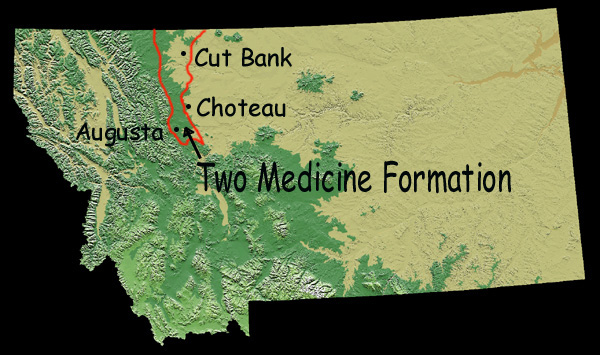 The fossils that Horner found were in a 2,000 ft. thick series of sedimentary rocks called the Two Medicine Formation which runs along the Rocky Mountain Front from Augusta to southern Alberta. Geologists believe that the sediments that make up these layers of rock were deposited over a 12 million year period from 84 to 72 million years ago when this area was a coastal plain bordered on the east by a shallow sea and to the west by mountains.
A great book . . .
Digging for Dinosaurs, the search that unraveled the mystery of the baby dinosaurs by John Horner includes a detailed account of the Choteau area discoveries, complete with maps, diagrams, and illustrations.
Museum of the Rockies . . .
John Horner is the curator of the Museum of the Rockies in Bozeman. There you can see a display representing Horner's work in the Choteau area.
An article in the Montana Magazine . . .
An article in the September-October issue of this magazine tells how the Maiasaurus became the state fossil of Montana.
A television program . . .
In December of 2003 the Discovery Channel aired a 4-part series of programs called "Dinosaur Planet." The series is narated by Christian Slater. One episode, called "Little Das' Hunt," tells a story about some Maiasaurs in westcentral Montana 75 million years ago. Watch your TV schedule for repeats, or order the tape from the Discovery Channel web site.