Mines Visible from Space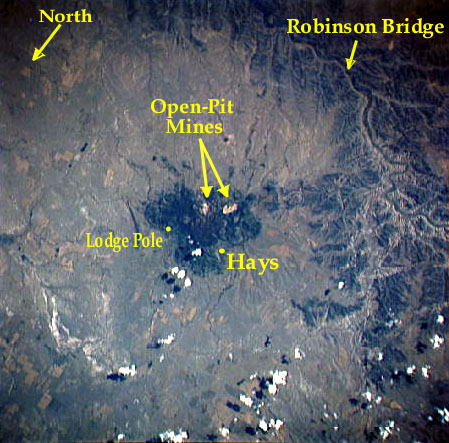 An Astronaut's View . . .
This photo was taken from the Space Shuttle as it passed over central Montana on July 8, 1989. It shows the Missouri River as well as the Little Rockies, a small mountain range located 30 miles south of Harlem. Hays and Lodgepole are located on the edge of the Little Rockies. Also visible are the Zortman and Landusky open-pit gold mines that were owned and operated by Pegasus Gold, Inc. from 1979 to 1998. The mines are located just outside the southern edge of the Ft. Belknap Indian Reservation. In fact, the mined land used to be part of the reservation, but the discovery of gold there in the 1800s prompted the government to "renegotiate" the extent of the reservation. If you examine of a map of the reservation you will notice a curious "notch" along Ft. Belknap's southern border.
Who owns the mess? . . .
Before a company begins to mine an area, it is required to pay a "reclamation bond." With the mines in the Little Rockies, Pegasus was required to post a $30 million bond. Normally the bond money is given back to the mining company when they are finished mining and the government is satisfied that the company has restored the land. If the company leaves without cleaning up the land, the government uses the money to do the cleanup. This is exactly what happened with the Zortman and Landusky mines. Pegasus declared bankruptcy in 1998, forfeited its $30 million bond, and left the mess for the government to cleanup.
Tribes are concerned . . .
A Billings engineering firm hired to oversee the project has been using the bond money to begin cleaning up the area. Unfortunately, the $30 million will not be enough to do the job. According to a recent Associated Press article, the reclamation plan preferred by the government will cost an estimated $63.5 million . . . over twice the amount provided by the reclammation bond. So, unless Congress or the state appropriates another $33.5 million, a less extensive cleanup plan will be carried out. This development worries the tribes of the Ft. Belknap Reservation who are concerned that a high quality cleanup will not be accomplished. As a result, the tribes filed a lawsuit against the state last summer, asking that the cheaper cleanup plan be declared illegal under the state constitution and environmental laws.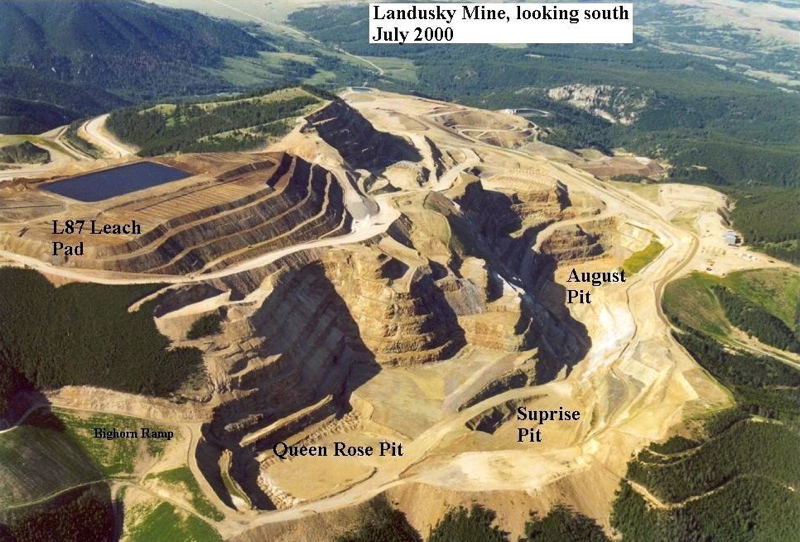 Source: Associated Press, "Officials: Mine cleanup bond will be spent by end of the year", The Independent Record, January 17, 2003
Term: reclamation (do NOT use any form of the word "reclaim" in your definition)