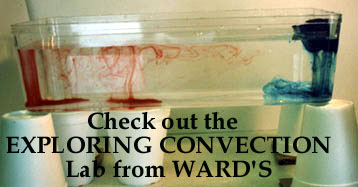 The Ocean Currents Lab
Shown here is a lab that I use to help my students understand ocean currents. To view a short video of this demonstration CLICK HERE.
---
Context
1. The day before the lab I explain currents and their causes.
2. On the day of the lab I do the Salinity-Density Demo and then the students do the ocean currents lab.
3. The day after the lab we go over the follow-up questions and then I use the El Nino Demo to introduce them to this phenomenon.
---
The Wind Lab
Shown below is a lab-activity that helps students understand how winds develop. The lab is written in such a way that they will learn about the relationship between uneven heating, convection, pressure differences, and wind. To view a short video of this demonstration CLICK HERE.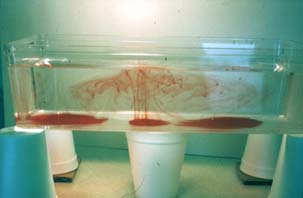 . . . .
. . . .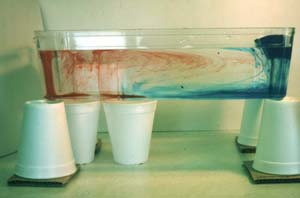 Context
1. In the days before the lab I try to help my students understand "atmospheric pressure". Among other things, I have the students do a can-crush activity and I show them the last several minutes of the movie, "Total Recall."
2. The students do the lab which can be completed in one 50 minute period. The follow-up questions may have to be finished as homework.
3. In the days following the lab, I teach the students about the global pattern of winds as well as local and regional winds.
---
Where to get these two labs
The two labs along with the materials and student handouts are included in a kit available through any from the WARDs Natural Science Establishment (search: Exploring Convection). It is called "Exploring Convection Currents.