Death by dust in Libby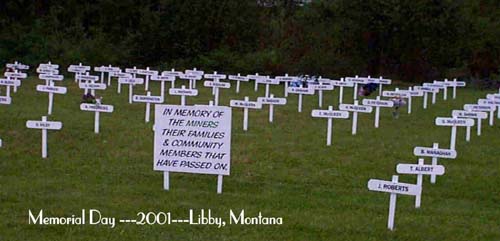 Photo courtesy of Montana Public Interest Research Group
Northwestern Montana is home to one of the nation's worst environmental disasters in recent decades. Since the 1960s, over 200 people in the Libby area have died of asbestos-related lung diseases caused by dust from a vermiculite mine located seven miles north of Libby. The problem started to draw national attention in November of 1999 when an article appeared in The Seattle Post-Intelligencer.
November and December 1999 . . .
By the time the article was published in November of 1999, at least 192 people had died from inhaling microscopic asbestos fibers from the mine's vermiculite ore. Furthermore, doctors and Libby area residents claimed that over 375 others had been diagnosed with fatal diseases (mesothelioma, etc.) caused by dust from the mine. Soon after the article was published, the EPA sent an Emergency Response team to Libby. By the end of 1999 the team had collected nearly 700 samples of the town's air, soil, dust, and building insulation. The test results indicated that many of the town's homes and businesses contained substantial quantities of asbestos fibers.
A human tragedy. . .
In 2000 and 2001 the U.S. Agency for Toxic Substances and Disease Registry screened over 7,000 current and former Libby residents. Results showed that nearly 18 percent of those examined had some form of asbestos-related lung damage. Among mine workers, the rate was 48.5 percent. Some of the victims are family members of miners who brought the dangerous asbestos fibers home as dust on their clothing.
Governor uses "silver bullet" . . .
In January 2002 Governor Martz used the State of Montana's one-time privilege of naming a site as its highest priority for designation to the National Superfund Priorities List. With this, Libby was finally recognized by the federal government as a hazardous waste site that needed to be cleaned up. This marked the beginning of the very expensive and very controversial efforts to rid the area of asbestos contamination. Recently the nearby town of Troy was also included in the project because health screening there found the same kind of lung problems found in Libby citizens.
Background . . .
The vermiculite mine operated for a century before shutting down in 1990. Vermiculite was once widely used as building insulation and more recently as a soil conditioner. During peak production as much as 80 % of the world's supply of vermiculite came from the Libby mine. For years, many people in Libby received vermiculite free of charge from W.R. Grace (the company that acquired the mine in 1963) and used it liberally in businesses and homes as insulation, in gardens as a soil conditioner, and as fill for school running tracks and football fields as well as other construction projects.
CLICK HERE to watch a 2.5 minute video about the situation in Libby.
Below: This map shows the locations of other "superfund sites" in Montana. Click on the Hot Link to learn about the individual sites.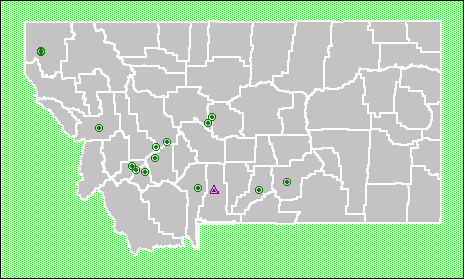 Term: mesothelioma