This decision looks like a "no-brainer."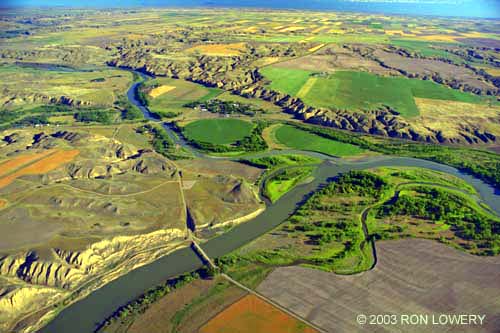 Photo courtesy of Ron Lowery
Chasing Lewis and Clark
A fork in the river . . .
This aerial photo, shows the confluence of the Marias and Missouri Rivers 10 miles northeast of Ft. Benton. Scroll to the bottom of this page to see a labeled photo. When the Lewis and Clark expedition reached this confluence on June 2, 1805 they faced a tough decision. The Mandan tribe, which they had spent the winter with in North Dakota, made no mention of this "fork" in the river, so the expedition was not sure which way to go. As one historian put it, they had reached the "where the hell are we" phase of their expedition. In the photo it seems obvious which branch is the main channel (the Missouri River). Perhaps in the spring of 1805 an usually high amount of runoff in the to the northeast of here (Marias Basin) made it difficult to distinguish the main channel from its tributary. Although they found the south fork to be wider (372 yards) compared to the north fork (200 yards), the muddy water in the north fork more closely resembled the river that they had been traveling on since leaving the Mandan village earlier that spring. On the basis of its muddy appearance, the men strongly believed the north fork to be the route that they should take.
Decision Point . . .
Lewis and Clark didn't agree their men, but they realized the importance of choosing the right course. So, the expedition camped for nine days while they investigated the two rivers. The captains began the investigation by dispatching three men in canoes up each of the forks. While they were gone, Lewis climbed to what is now called Decision Point Overlook for a better view of the surrounding land. He believed that one channel traveled too much from the north to be the Missouri, and that its waters were not clear enough to be from the snow-capped peaks of the Rockies that he could see in the distance. When the canoes returned their findings proved inconclusive, so the captains set out to see for themselves. Clark went forty-five miles up the south fork, finding that it ran swift and true to the west of south. He returned, convinced that it was the Missouri. Lewis went nearly eighty miles up the north fork, confirming that it headed from too much to the north for their route to the Pacific. Their decision to follow the south fork was confirmed when they reached great waterfalls that the Mandans had told them about (near present-day Great Falls).
Tribute to a cousin . . .
Once Lewis determined that the north fork was not the Missouri he decided to name it Maria's River in honor of his cousin, Miss Maria Wood. Over the years the apostrophe was dropped and the pronunciation changed to "ma-RI-us".