Shortly after leaving the cargo assembly area (12), the crew's foreman, Wagner Dodge, climbed up the slope to meet James Harrison at point 4. Harrison, the recreation and fire prevention guard for Meriwether Canyon Campground, had been working to keep the fire from spreading to the canyon before the crew parachuted into the adjacent Mann Gulch.

It was decided that the best approach would be to hike toward the river and then attack the fire from its flank. Dodge and Harrison joined the crew near point X, and the sixteen men walked along the west slope of the gulch, heading toward point Y. Sylvia's Rock (C) is marked as a reference point. The labels (12, X, 4, Y) are approximate.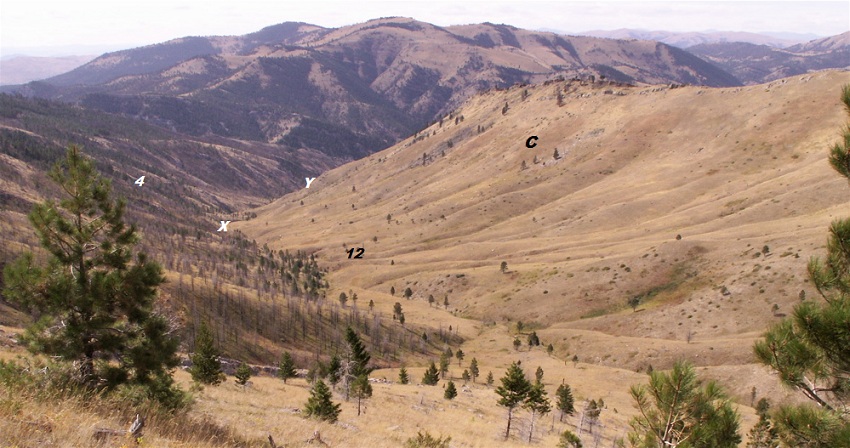 Maclean had this to say about Harrison in "Young Men and Fire" . . . "Harrison was known to many of this crew because he had been a Smokejumper himself the summer before in Missoula, and ironically had switched to patrol duty and cleaning up picnic grounds to please his mother, who was afraid smokejumping was too dangerous. Now here he was with Dodge and this crew of Smokejumpers on its mission of August 5, 1949, and he might as well have run into General Custer and the Seventh Calvary on June 25, 1876, on their way to the Little Big Horn."
7. NEXT: Danger lies ahead.